Product Description
Black garlic is a processed garlic product prepared by heat treatment of whole black garlic (Allium sativum L.) at high temperature under high humidity for several days, resulting in black cloves with a sweet taste. Aged black garlic has recently been introduced to the Korean market as a product beneficial to health. To clarify how BG changes during the 35 day aging period, the physicochemical characteristics, antioxidant contents, and antioxidant activities were evaluated under controlled conditions of 70 °C and 90% relative humidity. Reducing sugar and total acidity of BG increased during the aging period, whereas pH decreased from pH 6.33 to 3.74. Lightness and yellowness values of fermented whole black garlic radically decreased during the aging period, whereas redness values increased significantly. Antioxidant components, including the total polyphenol and total flavonoids contents of BG, increased significantly until the 21st day of aging (p < 0.05) and correspondingly, the antioxidant activities of BG, measured by DPPH, ABTS, FRAP, and reducing power assays, were highest on the 21st day of aging. These results indicate that BG can be considered to not only possess antioxidant properties during the aging period, but also to reach its optimal antioxidant properties at the 21st day of aging.

Multi bulb black garlic with skin, Retained the original nutrition garlic, through fermentation, produce a series of amino acids and other nutrients.Whole foods black garlic is emerged at the beginning of the 21st century a medicine plant eating garlic as raw material by biological fermentation and processed into a new type of health food.Compared with raw garlic, black garlic in taste and nutrients are great changes have taken place;In the aspect of medicine health care function food than raw garlic has increased significantly.Through biological fermentation technology limited garlic intake from traditional condiments into portable casual success health food, make the function of the original medicine eat garlic to a huge rally, has important contribution for human health.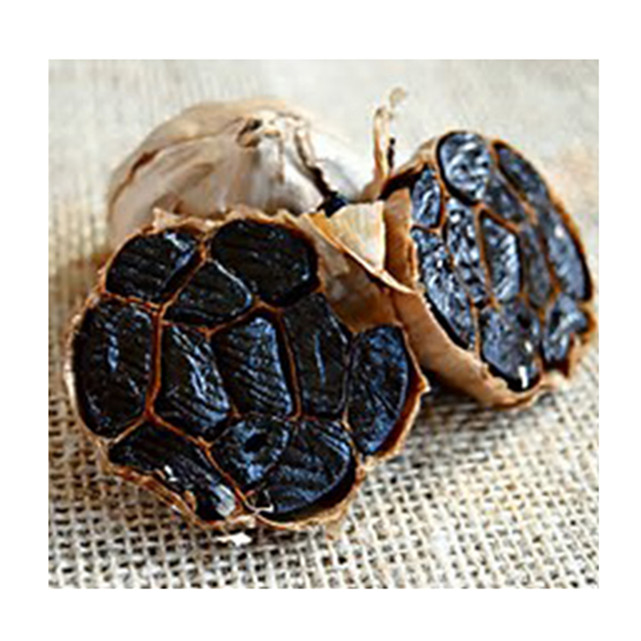 1, in the process of black garlic Browning, simple polyphenols formed the polyphenol compounds, polyphenols content of oxidation resistance stronger.
2, in fresh garlic exists to reduce or inhibit qualitative material of the role of active enzyme, fermentation could reduce the activity of inhibiting substance, then improve the black garlic intermediate active enzyme activity.
3, the black garlic factory summary: a portion of the fresh garlic closely integrated with other material, in for a long period of time they have been released in full in the heating process.

Black garlic it possesses higher antioxidant activity than normal garlic, polyphenols content is more than five times higher than normal garlic, 15 times higher than that of superoxide dismutase (sod), and radical scavenging capacity is more than 8 times of fresh garlic.Researchers from garlic intake through biological fermentation technology limited traditional condiments success into portable leisure health food, make the function of the original medicine eat garlic to a huge.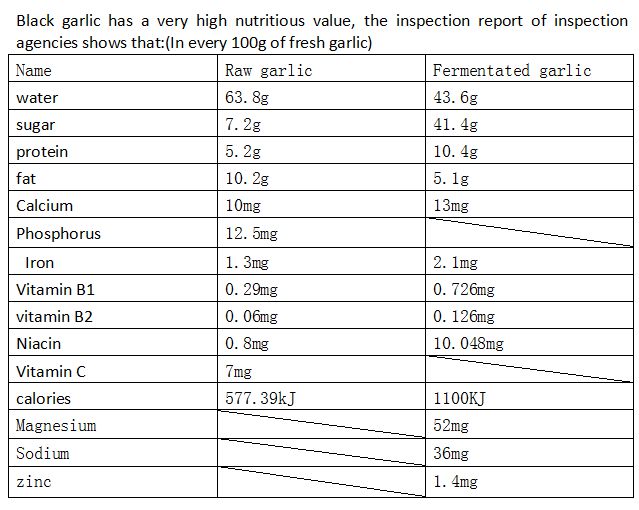 The role of amino acids in black garlic
1. Promote appetite increase and anti-anemia effect, accelerate wound healing, cure liver function failure
2. Lower blood glucose levels, promote sleep, relieve migraines, and help control alcoholism
3. Strengthen immunity, prevent tooth decay, promote child growth, and help eliminate certain infertility
4. Prevent fatty liver, cardiovascular disease and kidney disease, remove harmful substances such as lead and other heavy metals
5. After the disease, postpartum hair loss has curative effect
6. Turn into tyrosine in the body, promote the synthesis of thyroid hormone and adrenal hormone, reduce hunger pangs
7. Prevention and treatment of alzheimer's disease, the treatment of chronic diseases such as gastric ulcer, mental inflammation has effect
8. Promotes the synthesis of haemoglobin, can serve as the treatment medicine of liver coma
9. Increasing muscle strength, maintaining sexual function and contributing to the treatment of sperm reduction
10. The liver has protective effect, can treat angina pectoris, to myocardial infarction and so on have control effect
11. Prevent hypertension, diabetes, blood clotting, thrombus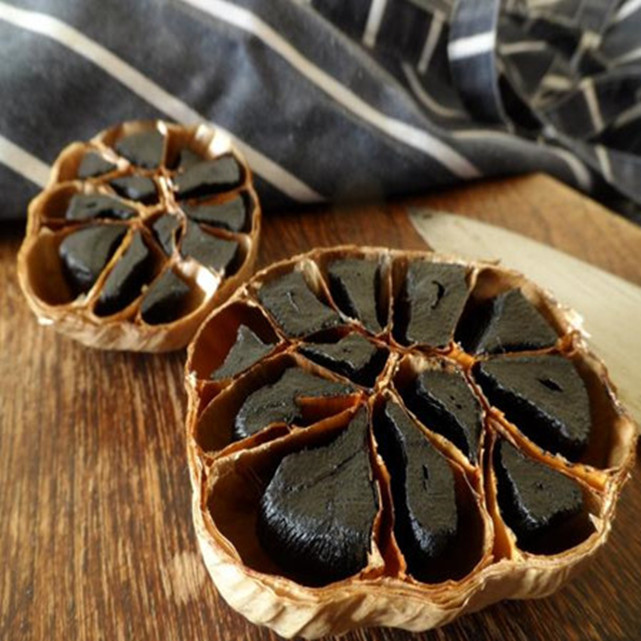 Fermented Black garlic is suitable for the crowd
1, cancer patients,
2, cardiovascular and cerebrovascular disease patients
3, patients with high blood pressure, high cholesterol, high cholesterol, high blood sugar
4, cirrhosis of the liver, hepatitis, hardening of the arteries, the index of liver in patients with high
5, anemia, iron deficiency, calcium deficiency
6, such as alzheimer's, Parkinson's disease
7, stroke, ear stroke patients, etc
8, kidney empty, frail, fatigue exhaustion
9, prostate disease patients
10, patients with diabetes
11, to suffer much from menstrual symptoms
12, want to keep young
13, easy to catch a cold, low immunity
14, office for a long time, don't exercise, obesity
15, in healthy people
16, constipation, diarrhea
17, age spots


FAQ:
Q1:What`s your policy on the sample?
A:We can provide samples for free, but the customer will pay the freight.
Q2: What is your terms of packing?
A: Generally, we pack our goods in mesh bags and cartons.We can pack the goods as your requirements!
Q3. How do you make our business long-term and good relationship?
A:1. We keep good quality and competitive price to ensure our customers benefit ;
2. We respect every customer as our friend and we sincerely do business and make friends with them, no matter where they come from.
Q4: What is your terms of delivery?
A: T/T 50% T/T in advance,and the balance 50% paid on receipt copy of B/L.
L/C Within the allotted time
Q5. How do you choose the raw materials?
A: We chose the white garlic with 5.5-6.5cm to make multiple cloves of black garlic.There are several different specificcations for a single black garlic 2cm,2.5cm,3cm,3.5cm.
Q6. Do you test all your goods before delivery?
A: Yes, we have 100% test before delivery
Q7.What is your terms of delivery?
A: FOB, CIF, CFR.