Product Description
Black Garlic Paste Introduction
Black Garlic Paste can be mashed and mixed with a drop of virgin olive oil, salt and pepper, it will bring coulour and fruitiness to white fish dishes – sole, turbot, brill, bass, etc. – and to lamb, pork and poultry. Together with olive oil, tomato and onion, it will enrichen your sauces for marinades and frying. Sliced it will delicately perfume pizzas, white rice, sauteed rice, pasta. Eaten as a dried fruit, it is quite simply sublime
1. Prevent cancer, control blood sugar, strengthen the function of internal organs.
2. Sweet and sour taste, no stimulation.
3. Disinfection, disease prevention wall.
4. Anti-oxidant ability.
5. Enhance immune function.
6. Regulate blood sugar levels Strongly.
Black garlic, no peculiar smell of garlic, but emenate a rich aroma can evoke appetite. To make garlic granule to keep a lot of water, all of the production process to maintain a moist state, it looks similar to preserved fruit. This is because after a long period of fermentation and maturing , the protein contained in garlic have been broken down into amino acids, carbohydrates are broken down into fructose, and contained intact garlic alliin.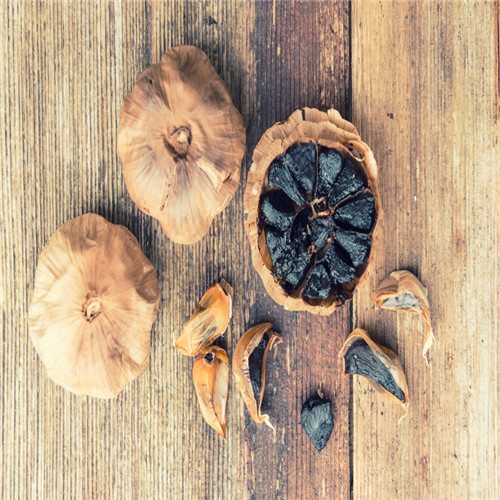 Our company
Besides black garlic, our company can also export others black garlic products, such as peeled black garlic, solo black garlic and whole black garlic. If you are a producer or you have a garlic farm , you can also take our black garlic machine into consider. If you have our patent fermented black garlic machine,you can make fermented black garlic by yourself.