Product Description
Whole Black garlic is put fresh raw garlic on the fermentation box about 60 days, allowed to naturally fermented foods. Fermented whole black garlic is made of high quality pollution-free fresh garlic, do not add any additives in the fermentation tank, 90 days and mature, stimulation of allicin in the fermentation process into no garlic smell and low irritant s - allyl bran amino acid composition, and carbohydrates into fructose, both produce Browning reaction, so the garlic will become black after ripening, so called black garlic.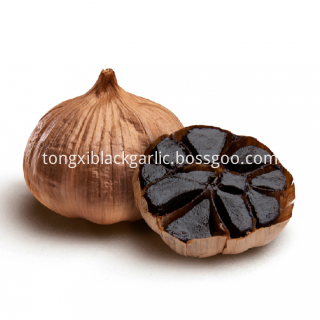 Aged Black Garlic production process
Fresh organic garlic → cleaning → dehydration → clip → outfit fermentation
dish → fermentation room → fermentation → booth cool room → ripen Sterilization room → black garlic sorting room → inner packing → outer packing → Black garlic storeroom
Nutrition Comparison: Raw white garlic VS Black garlic
Whole foods Black garlic is really cool. It has an aggressive flavor, and once the garlic ferments it becomes soft and pasty if you press on it. It's hard to explain, to be honest, because it doesn't taste anything like raw garlic anymore. Raw white garlic can be really strong and astringent-black garlic softens the garlic flavor, rounding it out, deepening it with subtle aniseed notes. And there are other unrecognizable flavors in there, too.
Multi bulb Black garlic -----Edible methods
1.Eat directly
Can eat directly , the effect of regulate constipation, prevents cancer, diabetes, the heart cerebrovascular disease and many kinds of diseases
2.Food and beverage industry
Food and beverage industry create many kinds of upscale health care cookbook
3.Hot spring bath
Can develop high-end bath brand, after takes a bath using black garlic can prevent and treatment many kinds of skin diseases, eliminates the surface germ of the skin
4.Beauty industry
Using black garlic anti-oxidation ability strong characteristic can make the upscale beauty mask and the black garlic skin appliances
5.Pet food
Can make upscale pet food to prevent and treatment pet's kinds of internal diseases


Related products

Peeled black garlic Black garlic powder Black garlic juice Black garlic paste Solo black garlic Black garlic machine