Product Description
Single Clove Black Garlic is made of single fresh garlic. It appears from grey white to dark brown in colour and shrinks during the fermenting process. It is recomended to consume 3 Single Cloves per day. Once you open the single clove it is ready to eat, no aditional preperation is required. If stored under the correct conditions, the Single bulb Black Garlic should have 24 months shelf life.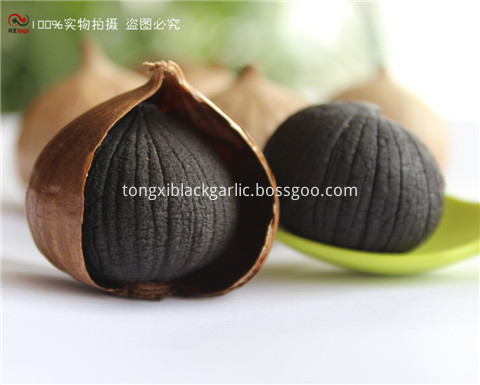 The effect of black garlic
1. Prevent cancer, control blood sugar, strengthen the function of internal organs.
2. Sweet and sour taste, no stimulation.
3. Disinfection, disease prevention wall.
4. Anti-oxidant ability.
5. Enhance immune function.
6. Regulate blood sugar levels Strongly.
Edible methods
1. Eat directly
whole black garlic Can eat directly , the effect of regulate constipation, prevents cancer, diabetes, the heart cerebrovascular disease and many kinds of diseases
2. Food and beverage industry
Food and beverage industry create many kinds of upscale health care cookbook
3. Hot spring bath
Can develop high-end bath brand, after takes a bath using black garlic can prevent and treatment many kinds of skin diseases, eliminates the surface germ of the skin
4. Beauty industry
Using black garlic extract anti-oxidation ability strong characteristic can make the upscale beauty mask and the black garlic skin appliances
5. Pet food
Can make upscale pet food to prevent and treatment pet's kinds of internal diseases

Normally the Multi bulb Back Garlic has 10-12 cloves. It is recommended to consume up to 1 bulb per day.
Once you have peeled the clove it is ready to eat.Clove Black Garlic should have 24 months shelf life if stored in the correct conditions.