Product Description
Fermented black garlic is made of high quality pollution-free fresh garlic, no add any additives in the black garlic fermentation machine, 90 days and mature, stimulation of allicin in the fermentation process into no garlic smell and low irritants-allyl bran amino acid composition, and carbohydrates into fructose, both produce Browning reaction, so the garlic will become black after ripening, so called black garlic.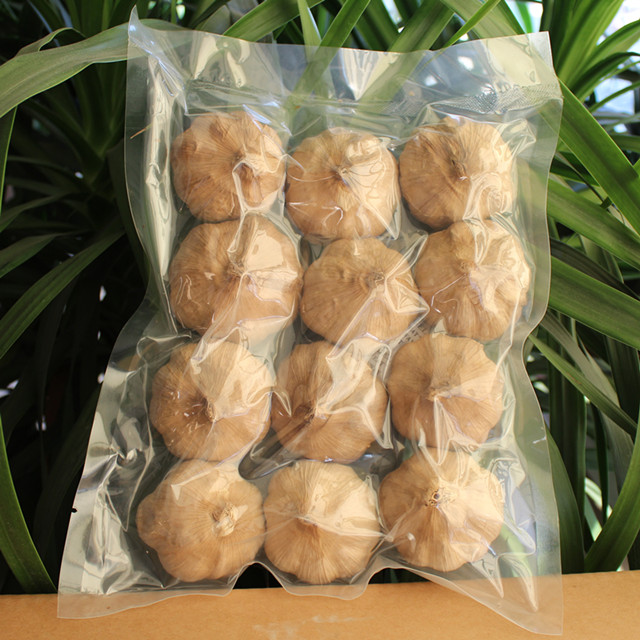 The size of

whole Black garlic

is about 5.0cm-6.5cm, every bulb has 10-12 cloves.

Solo black garlic

about 3.5cm. The nutritional content of both is almost the same.
Aged black garlic

allowed to naturally fermented foods. We know that garlic itself is a very good health food products, while the role of black garlic is really amazing. For diabetes, hypertension, high cholesterol, cancer prevention and treatment have a very significant effect.
Black garlic from selected a year earlier, to the base of strict production process control, to finally put in a certain temperature range of fermentation tank after 90 days of fermentation, after a long time of fermentation and maturation, originally containing proteins into amino acids, carbohydrates into fructose.
The role of amino acids in black garlic
1. Promote appetite increase and anti-anemia effect, accelerate wound healing, cure liver function failure
2. Lower blood glucose levels, promote sleep, relieve migraines, and help control alcoholism
3. Strengthen immunity, prevent tooth decay, promote child growth, and help eliminate certain infertility
4. Prevent fatty liver, cardiovascular disease and kidney disease, remove harmful substances such as lead and other heavy metals
5. After the disease, postpartum hair loss has curative effect
6. Turn into tyrosine in the body, promote the synthesis of thyroid hormone and adrenal hormone, reduce hunger pangs
7. Prevention and treatment of alzheimer's disease, the treatment of chronic diseases such as gastric ulcer, mental inflammation has effect
8. Promotes the synthesis of haemoglobin, can serve as the treatment medicine of liver coma
9. Increasing muscle strength, maintaining sexual function and contributing to the treatment of sperm reduction
10. The liver has protective effect, can treat angina pectoris, to myocardial infarction and so on have control effect
11. Prevent hypertension, diabetes, blood clotting, thrombus
The process of making black garlic: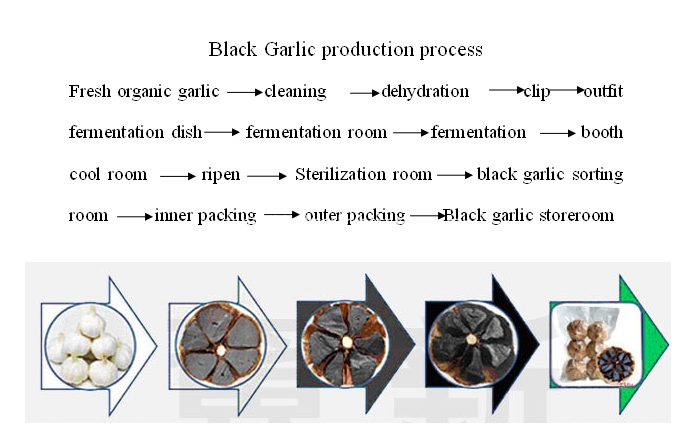 Black garlic melts in your mouth, with a wonderful texture similar to sweet and sour jelly. Does not have a strong garlic smell, and tastes like fruit.
1. Its antioxidation capability is significantly increased, 10 times higher than that of raw garlic, while the essential effectiveness of garlic is not reduced. Some foreign data indicate that there is a significant antioxidant activity of aged garlic extract on sickle red blood cells by reducing the Heinz body count.

2. S-arylcysteine that does not exist in raw garlic is generated, which is effective for preventing cancers, inhibiting cholesterol, improving arterial sclerosis, preventing heart diseases and alzheimers disease, etc.

3. The content of polyphenol is significantly increased, which is effective for inhibiting oxidation of cholesterol, inhibiting generation of active oxygen and preventing arterial sclerosis.

4. It smells natural garlic itself, but does not have intrinsic unpleasant smell of garlic coming out of a persons body with his breath after eating garlic.
5. The aged black garlic is obtained as a food without any additive only by self-aging. Its a simple and natural
prescription for better health.


Once you have peeled the clove it is ready to eat. Black Garlic should have 24 months shelf life if stored in the correct conditions.