Product Description
Black Garlic is a fermented black garlic that is produced using hard necked garlic. Nothing at all is added. It is `fermented` under strictly controlled conditions including temperature, humidity and time. The individual garlic cloves change to black, looking somewhat unappealing to those who haven`t experienced its incredible flavour.
Peeled black garlic is a specificaiton of the black garlic. In addtion, we can also provide whole black garlic, solo black garlic and black garlic paste.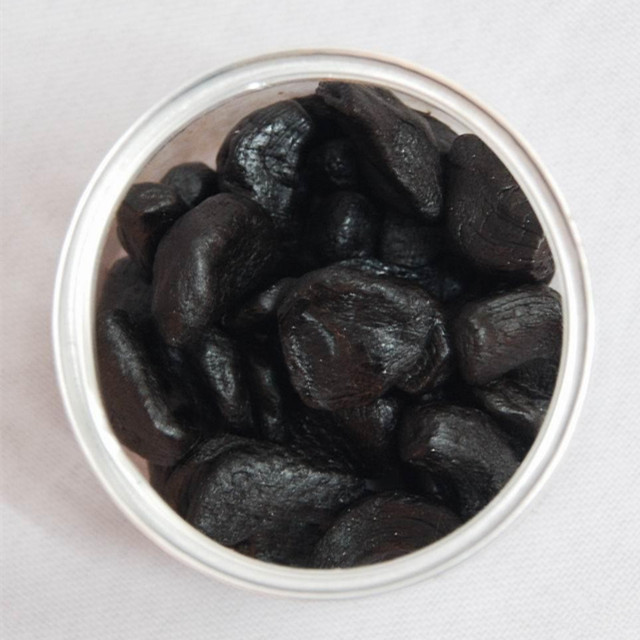 Preservation method
Black garlic texture is soft, the vacuum package should not be too tight, otherwise it will squeeze bad bla-
ck
garlic, black garlic after unpacking, after sealing bag, such as a good black garlic, black garlic can be
preserved for 3 months, unopened can save a long time, but must be placed in a cool and dry place
pres-
ervation.
Sweet and sour taste , no irritation
Black garlic, no peculiar smell of garlic, but emanate a rich aroma which can evoke appetite. To ensure garlic cloves keeping a lot of water, all of the production process to maintain a moist state, it looks similar to preserved fruit. This is because after a long period of fermentation and maturity , the protein contained in garlic have been broken down into amino acids, carbohydrates are broken down into fructose, and contained intact garlic alliin.
Use methods
1.
Eat directly
Can eat directly , the effect of regulate constipation, prevents cancer, diabetes, the heart cerebrovascular disease and many kinds of diseases;
2.Food and beverage industry
Food and beverage industry create many kinds of upscale health care recipes
3.Hot spring bath
Can develop high-end bath brand, after takes a bath using black garlic can prevent and treatment many kinds of skin diseases, eliminates the surface germ of the skin ;
4.Beauty industry
Using black garlic anti-oxidation ability strong characteristic can make the upscale beauty mask and the black garlic skin appliances;
5.Pet food
Can make upscale pet food to prevent and treatment pet's kinds of internal diseases.