Product Description
Whole Black Garlic is put fresh raw garlic on the Black Garlic Fermentation Machine about 60 days, allowed to naturally fermented foods.
Peeled Black Garlic is made from white garlic after being peeled and fermented.
So the composition and efficacy of Multi Bulb Black Garlic and Peeled Fermented Black Garlic is the same.
The effect of black garlic:
1.Prevent cancer, control blood sugar, strengthen the function of internal organs.
2.Sweet and sour taste, no stimulation.
3.Disinfection, disease prevention wall.
4.Anti-oxidant ability.
5.Enhance immune function.
6.Regulate blood sugar levels Strongly.
The process of making black garlic: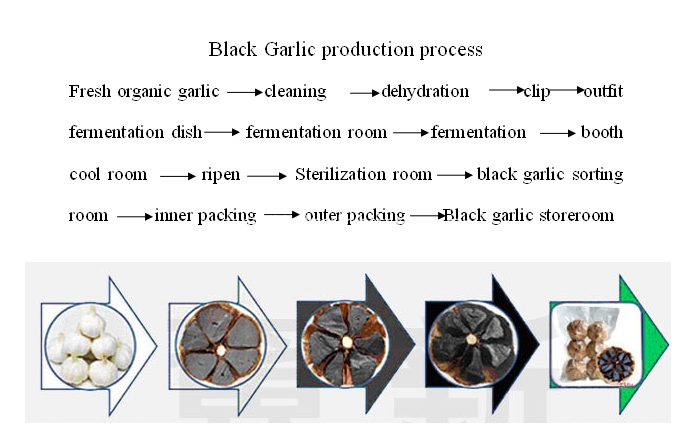 Black garlic melts in your mouth, with a wonderful texture similar to sweet and sour jelly. Does not have a strong garlic smell, and tastes like fruit.
1. Its antioxidation capability is significantly increased, 10 times higher than that of raw garlic, while the essential effectiveness of garlic is not reduced. Some foreign data indicate that there is a significant antioxidant activity of aged garlic extract on sickle red blood cells by reducing the Heinz body count.

2. S-arylcysteine that does not exist in raw garlic is generated, which is effective for preventing cancers, inhibiting cholesterol, improving arterial sclerosis, preventing heart diseases and alzheimers disease, etc.

3. The content of polyphenol is significantly increased, which is effective for inhibiting oxidation of cholesterol, inhibiting generation of active oxygen and preventing arterial sclerosis.

4. It smells natural garlic itself, but does not have intrinsic unpleasant smell of garlic coming out of a persons body with his breath after eating garlic.
5. The aged black garlic is obtained as a food without any additive only by self-aging. Its a simple and natural
prescription for better health.

Once you have peeled the clove it is ready to eat.Black Garlic should have 24 months shelf life if stored in the correct conditions.